Today has been cold. For SC, at least. Don't start bitching about "SC isn't cold! (Insert state here) is cold! Quit whining!" For those of you who are not familiar with how the body works, within a certain temperature range, your body actually acclimates to the local weather. So, 20 degrees in SC is like -30 degrees in upstate New York for those who are acclimated to the weather. And I've done 2 week long field maneuvers in that kind of weather, so don't try to one-up me with "It's colder here where I most certainly stay inside with the furnace on full blast except when I gear up and shovel the driveway."
That's one thing that annoys me. Why do people lack grace anymore. Why is everything a pissing contest about who has it worse? I am quite content not telling people about my shit days. I certainly don't want to hear how crappy you "had it." In the example above - the weather - stating that the weather suddenly dropped to chilly temperatures is a topic for discussion - not a topic for someone to start bitching about how cold it is somewhere else. We're not talking about somewhere else. We're talking about here. Go fuck a hooker with the herp.
Class is providing productive material to a conversation. Class is accepting a compliment with grace - not insulting the person by saying, "Oh no, my hair is just awful!" after they've complimented it. You just told them they have no sense of fashion or style. I think that while it's fine to "complain" about some things, like the weather, it shows lack of personality to always be complaining. Show people you're happy as a two-dollar whore working a bar near a military base! Be cool under pressure. Laugh at yourself. Just don't be the annoying plastic smile person, either.
Be more like this guy - happy despite certain doom!
Fun pic o' the day: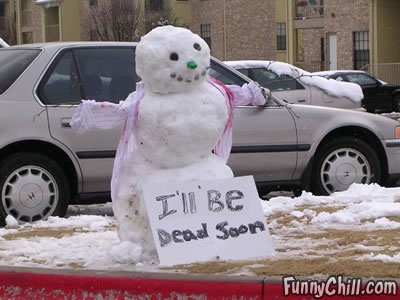 from:
http://www.epidemicfun.com/2009/the-largest-smallest-funny-and-most-beautiful-snowman/